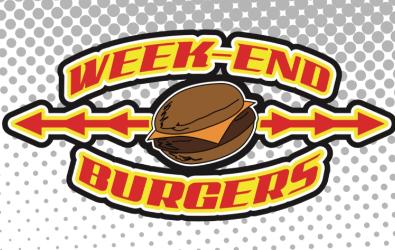 WELCOME TO WEEK-END BURGERS
Week-End Burgers was established 2018, we started with food truck.
We operated from food truck for 3 years and 2021 we have made move in to our current restaurant.
At Week-End Burgers we strive to provide best service and quality menu which is made to order each and every time!
We serve one of the best burgers in Louisville if not the best, along with burgers we also have many other items such as: Grilled Chicken, Fried Chicken, Patty Melts, Cheesesteak Sandwiches, Fish Sandwiches, Salads, Wings, Chop Cheese Sandwiches, Hot dogs & chili dogs, Fresh cut fries, tots, onion rings, Potato Flats, Desserts, Ice Cream Shakes.
Bring your family out for treat we are sure everyone will find something that they will love!
Some items may not always be available, some items are seasonal only.
We are Franchising! If you would like to own Week-End Burgers please ask for more info.
RESTAURANT LOCATED AT
5600 National Turnpike
Louisville KY 40214
(502) 742-9027
WE ARE OPEN
MONDAY-SATURDAY 11:00am-7:00pm
CLOSED SUNDAYS